Cusco Bushing Installation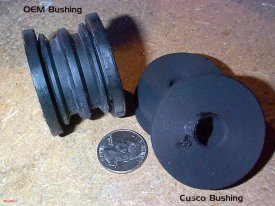 The Cusco bushing modification is highly recommend buy owner who have had
this mod done. A must for anyone who want smooth solid shifting from 1st to
2nd during high RPM's. With stock bushings during higher RPM's when shifting
into 2nd it seem that it does not seem to want to shift immediately. Once
this the new bushing are installed the shifting will feel more smooth and
crisp like a true sports car shifter. Bang for buck is very high at only
around $60 for the Cusco bushings and 20-30 mins install time.
Author : Peat R. Jr. Photos : Peat R. Jr
Tools needed:
12mm open end or 12mm socket
eye protection
ramps or jack and jack stands

Parts needs:
Cusco Bushings

Approx. Time needed:
No more that 30mins
Special note:
Eyeprotection is recommended to keep dirt from the undercarriage out of your
eyes.
Your arm will be touching the exhaust piping. So, it will have to be cool.
If not add 1st aid burn cream to the tool list.

Author's Disclaimer:
Disclaimer, I'm not responsible if you drop the car on your head or get
something in your eye. Please work safely. YMMV and all that stuff.

Let's go!
1) Jack it up and find the bushing...


After getting the car safely on something, get under there and locate the
bushing. It's on the drivers side (LHD), by the tranny on the end of the
shifter link on a stud. The stud is attached to the tranny. It took me a
few min to find it. If you look for the O2 sensor wire, it's above the
connector.

2) Remove nut and washer...

Take a 12mm open end and remove the nut and washer plate. The washer plate is keyed so it will only go on one way but make sure you have that little bent tab in the right direction when you put it back on.
3) Pull bushing off of the stud..


I found the best way to move the link around is to stick your arm behind the heat shield and grab the link. Then push out the OEM bushing. It's one whole piece not two like the Cusco bushing.

I found it came out easily if you hold the link and position the bushing so the stud is close to the edge of the bushing. Push hard towards the center of the car and you can pop it out.
4) Put the Cusco bushings in...


Then just put one half on the stud, put
the link back on, then put the other half on. I found it difficult to get
the second half seated all the way. I got it in there just enough to get
the washer plate on and nut started. I just tightened it down and it
seated with no problems.
Many thanx to Peat for writing and providing pic of the install. Top quality job, Peat!!
Peat's Impreza profile:
99' Subaru Impreza RS 2.5 - Silverthorn MT
Strömung muffler, No intake Silencer, K&N panel
Hella air horns, trunk light, PIAA Ion Fogs, V1
Kartboy Short Shifter w/ Cusco bushings, De-badged

97' Subaru OB Limited - Rio Red AT
PIAA 4060 fogs, Twin FAIMMs